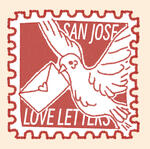 Love Letters 2 San Jose
Zine operating with SJ Strong; sharing love letters from SJ residents and amplifying the work of local artists♡ Submissions are now open until October 29th
♡ Check out our Instagram!
We are Love Letters 2 SJ!
We are San Jose Strong's South Bay Research Team, dedicated to exploring, promoting and uplifting community voices within the creative culture of San Jose.
Our current project is community-wide initiative, collecting "Love Letters" from all residents of the Bay Area* to San Jose; a thank you for everything it's given us. Formats can include photo, art, poetry, fashion, physical/typed love letters, or anything else submittable, with the option to submit anonymously. Our goal is to release the first print edition by Late December, with online features and exhibitions leading up to the release date.
In addition, we hope to attend events to interview and feature local creatives, activists, and businesses through interviews and short films.
We'd love a submission from you! See our "Submit" for more details on submission. Our current submission cycle will end on October 26, 2023.
Submission Guidelines
Submit (general)
Submit (anonymous)The current theme of our first issue is "A Love Letter to San Jose" - this theme is broad and can be interpreted in any way you want. From memories to places to people to events, we're excited to hear your love and message to San Jose.For our first issue, our deadline for submission is October 29, 2023.Love Letters to San Jose is currently taking submissions in the following formats:Text including poems, memoirs/fiction <2,000 words, love letters (.pdf or doc via link)Photography and Art(.jpeg, .png, or .pdf via link)Videos ~5 minutes in length (.mp4 format via link) If they are longer in length, we may have to split up the content in several posts since we would be initially sharing this on InstagramPlease format your file name as "initialstitle" (ex: John Doe, Family Recipes = jdfamilyrecipes).
Contact Us!
Contact us for collabs, questions, or just to say hi!We're also looking for anyone interested in graphic design or outreach within the SJ arts community, email us!insta: @loveletters2sj